When is Minecraft Live 2023? It's Autumn once more, and while that means Halloween, Pumpkin Spice, and comfy knits, it also means Minecraft Live is close, and this year's huge Minecraft broadcast has now been confirmed. Each year, Mojang uses Minecraft Live to announce new features coming to the popular game, as well as its huge annual update, and we can't wait to find out what's next following the Trails and Tales update of 2023.
Each year, usually around the Summer, a brand-new, epic update comes to everyone's favorite sandbox game, and undeniably one of the best PC games of all time, Minecraft. That's only the second best time of the year for the Minecraft community though, as the Minecraft Live Broadcast in which these updates are revealed for the first time are super exciting to watch. Now that Minecraft Live 2023 has been confirmed, here's when and how to watch the broadcast, and what we'd love to see announced.
When is Minecraft Live 2023?
Minecraft Live 2023 takes place on Sunday, October 15, 2023, at 10am PDT / 1pm EDT / 6pm BST, and usually lasts around two hours, including the pre-show.
You can find out when that is in your local timezone using this handy link provided by Mojang Studios. The pre-show usually lasts around half an hour and features some of your favorite Minecraft YouTubers detailing their best moments from the past year.
Mojang kicks off the show with reveals for their other games, including Minecraft Legends, Minecraft Dungeons, and Minecraft: Education edition, with an hour of updates about the main game itself, and the always popular Minecraft Live mob vote!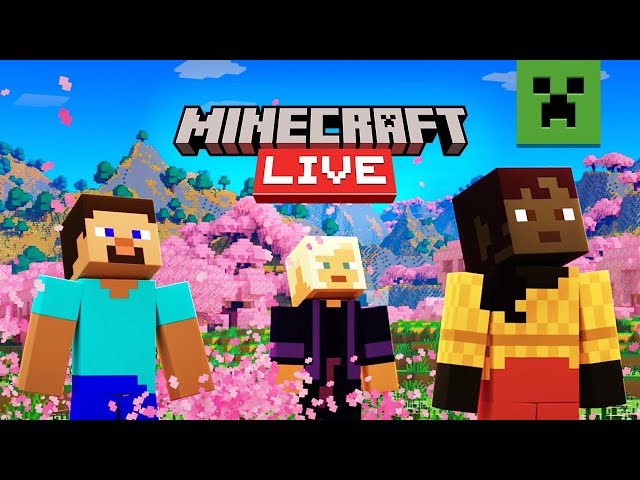 How to watch Minecraft Live 2023
You can watch Minecraft Live on the Minecraft YouTube channel or on the official website, Minecraft.net on the day. The VOD will then be available to watch afterwards on YouTube.
As they have done so in the past, we would expect Mojang to also upload individual trailers to their YouTube channel after the show, and there will be plenty of teasers across all their socials and the Minecraft website in the run up to Minecraft Live, including the mobs you can vote for in this year's Minecraft Live Mob Vote.
Minecraft Live mob vote
All three mobs going head-to-head in this year's Minecraft mob vote have now been announced, and we know that the crab, the armadillo, and the penguin, are this year's options. They're all super cute, and thankfully friendly mobs, so we just can't choose a favorite. To help you choose though, we've got three totally impartial and factual guides on each, so find out more about the Minecraft crab, the Minecraft armadillo, and the Minecraft penguin, and get ready to vote.
Minecraft Live 2023 wishlist
Minecraft 2024 update – The End update?
This is pure speculation, but we'd of course love to see an update to The End. Much like a cave update was in high demand before Caves and Cliffs was announced, an End update is the Minecraft community's new obsession, as one of the least developed areas in Minecraft. And we don't say that in a negative way, just that so much of the overworld and the Nether /have/ been updated, that The End certainly feels like the next obvious place to be brought up to the same level.
Whether or not much would happen to the first location in The End remains to be seen, but the vast islands and End Cities that you can explore once you have defeated the Minecraft Ender Dragon could certainly do with a facelift. Aside from hunting for a few Shulkers and some Elytra, many players still consider the Ender Dragon fight to be the end goal of the game, and the End Cities beyond that boss fight don't offer much to keep players playing.
There also aren't many blocks, mobs, or structures in the end, and – aside from Elytra, Dragon Heads, and Shulker boxes, there isn't much loot to grab, either. Perhaps some buried chests (or even Shulker boxes) could be added to the islands, or maybe even an End Villager? Of course, these are just a few ideas we'd like to see.
Minecraft biome updates
While The End is most desirable for a full update, Badlands are more logical, even if we really want to have both (we will, eventually). Half wishful thinking and half "we're onto something here", the Badlands biome is definitely due an overhaul, and we have proof.
Back in 2019, the Badlands, the Swamp, and the Mountains all went head-to-head in a biome vote, and mountains came out as the winner, with goats and powder snow later added in the Caves and Cliffs update. That said, the proposed changes to the swamp, including frogs and chest boats, were also added when the Minecraft Mangrove Swamp joined the crafting game in The Wild Update in 2022, leaving us to believe the third and final biome, the badlands, could get their big update this time around.
There was also that hint of a gorgeous new Birch biome which was ditched along with fireflies a few years back. We also wouldn't be disappointed to see this idea come to fruition – perhaps even with the fireflies included.
New Minecraft mobs
Aside from new mobs in the mob vote, we usually get some additional mobs either as part of the next update, biome update, or just as a new feature. If we were to get an update to The End, undoubtedly there would be some new mobs to go with it, especially since End Cities are one of the areas least populated by mobs. Endermen and Shulkers are currently the only mobs that spawn naturally in End Cities, and with cities and islands expanding out infinitely, we could do with some new additions.
Flying End mob
There is definitely room for a flying mob in End Cities given the vast expanse of the void surrounding The End's islands – we'd love to see a mob that can fly at all heights, though this would make bridging between islands pretty tough.
Badlands mob
As we've mentioned above, the next biome we'd love to see spruced up is the Badlands (though that spruce pun belongs in the Taiga biome). There's definitely room for this sparse land to have a creature or two living among its terracotta peaks. While we originally thought the Minecraft camel would come to the red sand expanse, they so far only spawn in desert biomes. Instead, perhaps a brand-new, original mob would be perfect for the Badlands – we're imagining something that blends into the colours of the world in a chameleon-esque fashion or something slithery and snake-like.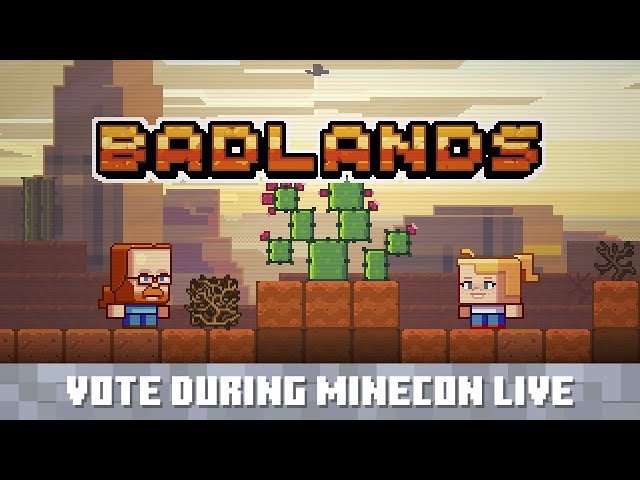 Vulture
That said, if the Badlands biome does get its original update as revealed in 2019, the vulture would be the new mob to be added. From what we saw in the original teaser footage back this, this scavenging critter would be drawn to loot left behind when you meet an untimely demise, so even if you make it back in time you might not find everything where you left it. Better be extra careful climbing down from those great heights or diving into those mineshafts, then.
Minecraft Earth and Dungeons mobs
We've seen Minecraft Earth and Minecraft Dungeons mobs appear in the mob vote before now, including the Iceologer and the Moobloom, the latter of which sadly lost out to the Minecraft Glow Squid (ngl, we voted for the squid).
There are loads of Minecraft Earth mobs that have now either been brought back to life in Dungeons or been lost in the code of the now defunct game. If we were to pick three that we'd love to see go head-to-head in the mob vote, it would have to be one passive, one neutral, and one hostile: Jumbo Rabbit, Tropical Slime, and the Lobber Zombie.
Minecraft Legends mobs
As we've seen other mobs brought in from Minecraft Earth and Minecraft Dungeons, it would be no surprise to see some mobs transferred across from 2022's Minecraft Legends. We have heard rumors that this year's mob vote could once again feature golems. This wouldn't come as a surprise if this were the case, since the Copper Golem and the Tuff Golem of 2021 and 2022 respectively both lost the mob vote.
So that's everything we want to see, but we'll have to wait until Minecraft Live 2023 to see how wrong our predictions are. If you've still not got to grips with the mechanics announced in last year's Minecraft Live, why not? We've got all the tools to help you understand Minecraft armor trims, locate Minecraft cherry grove biomes, and get your hands dirty with Minecraft archaeology – just make sure you've got a Minecraft brush to hand. We've also found all the best Minecraft seeds to experience these new features.